When Covid-19 led to mass shutdowns globally, we as a society quickly turned to technology to find ways to work, interact, and even receive medical attention.  One of the biproducts of this concept is a major surge in Teletherapy.  People could now access mental health services from the comfort of their own home.  Today, places are more opened up again and certain parts of the world are beginning to lift mask and other mandates.
One question remains:  do I go back in person or continue to seek online and remote opportunities?
Today, I want to discuss with you why online therapy works, and what makes online-therapy.com unique.  I will be answering some common questions I often hear, and hopefully may even address some thoughts you have!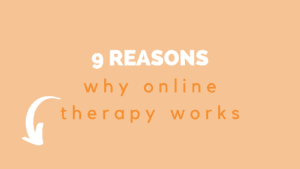 Online Therapy is Great for People with Busy Schedules
One of the biggest reasons why people do not consistently attend therapy has to do with scheduling.  This makes sense.  If a person works eight hours a day, needs to commute, and wants to have dinner at a reasonable hour, it can be challenging to fit other things into their schedule.  Additionally, many therapists are off on the weekends.  Utilizing online therapy, you can have a session at a time that works for you.  Not only do we offer flexible times, but now you don't need to worry about commenting.  This can include mornings, evenings, and sometimes, even weekends!  Now, seven in the evening may feel a whole lot easier to attend doesn't it?  You can also schedule sessions on your breaks if you work from home, or have access to a private space.  At online-therapy.com, we have a host of providers with varying schedules so that all of our clients feel accommodated.
Online Therapy is Great for Parents
Just like people with busy schedules, parents can have great difficulty timing therapy around their responsibilities as a caregiver.  By being able to attend therapy from home, you no longer need to worry about child care.  You can simply be in another room and know your child is safe in the home with you.  No more worrying about finding coverage to watch your child or feel anxious about leaving a child alone in a waiting room!
Online Therapy Can Be a More Comfortable Option for Those with Chronic Conditions
Chronic pain and other chronic medical conditions can limit a person's access to therapy as when there is a flareup in one's diagnosis, it may be hard to get up, get dressed, and commute to an office.  Yet, many physical and mental health providers recommend therapy and stress management to people with chronic conditions.  From the comfort of one's home, it can be easier to attend sessions, even during a flareup, making online therapy a more viable option for people with chronic pain to meet their care goals.  Additionally, at online-therapy.com we make the process even more streamlined for people with chronic pain by offering service providers who specialize in chronic pain and other chronic conditions.
You Will Meet Some Fantastic Therapists That Would Have Been Too Far to Get to Otherwise
Whether a therapist works remotely or in an office, they still go through the same extensive background check on their certification.  However, one big difference is how far away of clients each type of provider can see.  Think about it.  If you go in person to a service provider you can only go as far as you're willing to travel on a regular basis.
With online therapy, you are able to meet therapists from a further vicinity than you would be able to travel normally.  This can be a major benefit when seeking therapy because you're ideal therapist may be a person you wouldn't have been able to travel to see!  This not only helps with meeting therapists that are a good match, but also the type of therapy, or modality, the therapist uses.
Here at online-therapy.com our providers use Cognitive Behavioral Therapy.  In addition, however, we also have providers who are also trained in modalities based in Cognitive Behavioral Therapy, such as Dialectical Behavior Therapy, Acceptance and Commitment Therapy, and Positive Psychology.
Online Therapy is Great for People New to Therapy
Sometimes when therapy is new, it can also feel rather overwhelming.  It is very normal to have some hesitancy to talk to a therapist at the beginning.  Therapists know before meeting you that it may feel different to talk to someone you do't know about personal information.  We want to make sure you know we take your confidentiality seriously. We strive to create an environment that is comfortable for you.  Having sessions conducted virtually can help with this, because it is low pressure.
Online Therapy is Flexible
Let's say you meet with your therapist and you decide they aren't the best match for you.  That is perfectly fine and a normal part of the therapeutic process!  As a therapist myself, I can tell you that what therapists want is for you to feel comfortable and find a good fit that fits into your life at this time.  At online-therapy.com we allow for clients to easily switch who their provider is – no questions asked.  We want you to find the provider that you feel comfortable with, uses an approach that works well for you, and is available at times that work and do not add stress to your schedule.
Online Therapy is Great for Social Anxiety
If you get anxious in social situations, online therapy is a great option for you.  Here at online-therapy.com, you are not limited to video sessions with our providers. We also have phone sessions and chat sessions as well.  This is great for those who either feel hesitant to have a video session or who are unable to communicate confidentially.  We want to make sure our clients feel comfortable.  The best part is you can also switch the type of session you have.
Online-therapy.com is a Complete Happiness Toolbox
Does't that term alone make you smile?  Seriously – we are an entire toolbox for you.  Not only do you have access to a therapist and ability to message them, you have other tools available for your personal use also.  This includes yoga videos, worksheets that your therapist can give you feedback on, a journal, and an activity plan.  We provide you the tools you need to jump-start your wellness journey!
Online-therapy.com Takes Confidentiality Seriously
The last point that I would like to address is that online-therapy.com takes confidentiality very seriously.  All of our clinicians work in private spaces where no one can hear them or you.  I can't promise a pet may not show up though! As I mentioned , we offer video, chat, and phone sessions.  You can choose which one you would like depending on your comfort level and privacy in your space.  All of our sessions and messages take place on our platform for an added layer of confidentiality.
Sound interesting to you?  We would love to work with you on your wellness journey!  If you would like to learn more about online-therapy.com and become a part of our amazing community, please visit www.online-therapy.com