The weather is warming, the days are longer…yep!  It is summer again!  How does the Summer make you feel?  With the change in season comes new opportunities to practice self-care.  From capitalizing on daylight to taking stock of seasonal produce, we have you covered!
In this article, we will discuss self-care strategies that are specific to the season to try in your routine this summer!  At the end, we will discuss next steps to ensure that this summer is your best one for self-care yet!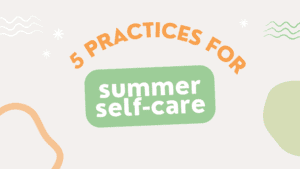 Get Outside
Fresh air is a great self-care strategy to help ourselves consistently regulate our emotions and engage with the present.  This is possible because, for some, going outside during the summer is a lot more comfortable than in colder weather.
How can you spend more time outside?  What environments are accessible to you?  For example, not everyone lives near a beach for outdoor time.  Perhaps, however, there is a public park, a river, or a field where you can spend time in nature.  Look for the spaces that you can access and consider trying new spaces as well!  Even if you live in a major city, is there a public space outside that you can go and enjoy such as a public garden, or monument that has outdoor seating?
Once you are outside, what can you do?  Will you meditate, take some deep breaths, and engage with the present moment?  Perhaps you will walk or hike and move your body.  Another option is to read.  These are just three of the options you can do outside!  What else can you think of?
The last component of this strategy is to consider who you will practice this tip with.  Will you use outdoor time as your alone time?  Or perhaps you will go outside with friends or loved ones.  You can also take a pet along for the experience!  How will you implement this strategy?
Use Natural Lighting to Light Your Home
Summertime is a great time to use the natural light to help light up your home.  Aside from your electricity bill thanking you, there are additional benefits to using natural sunlight.  First you will be putting less strain on your eyes, promoting good physical health self-care.
Second, natural lighting is known to help lift our mood.  For example, some people use specialized lamps to mimic natural light to assist with diagnoses such as depression and anxiety.  Rather than needing a lamp to assist with natural lighting, you can capitalize on the longer daylight hours to use the real deal!
By having more time in natural light, you may notice an increase in your mood, which will assist with emotional self-care.  Bonus points if you combine this with the last strategy and open your window!
Engage with Water- Even at Home
Water is a great way to increase your self-care because water can be used in multiple different ways.  The first way we can use water, which may seem obvious, is by drinking it.  This keeps us hydrated which helps with our physical and mental health.  However, there are also other ways which using water can be self-care.
Water is a great way to use sensory play to engage with the present moment and sooth our emotions.  While it would be lovely to be able to do this by going to the beach, a lake, or a pool, not everyone has access to these water sources.  The good news is utilizing your shower or sink can be just as effective.  Take a bath, a cool shower, or run water in the sink and dip your wrist in it.  You can also collect water in a bowl and move your hand through it for another sensory strategy.
If you want to up this strategy even further, you can take the water in a bowl strategy and add other sensory objects like a sponge or bubbles in the bowl to elevate the sensory experience further.
Seasonal Nutrition
Summer weather brings about seasonal fruits and vegetables!  Go to your local market and pick up the seasonal produce available in your area.  This is a great way to take care of your body and mind.  Having good nutrition will help with physical self-care, but also some foods, like blueberries, are attributed with positive mental health care.
Of course, with anything related to nutrition be mindful of allergies and food sensitivities!  If you have any concerns, consult with your physician first.
What foods are you going to be enjoying this season?
Taking Care of Your Skin
With greater amounts of sunlight, we need to take care of our skin!  (Yes, this is related to emotional health- we will get there in a moment!). It is important we find the right products to protect our skin with stronger sunlight.  Consult with a physician or dermatologist to see what is best for you!
Okay, now how is this connected to mental health?  Mind-body connection!  When our body is strong and healthy, our mind is healthier as well!  Have you ever had a sunburn before?  When our skin is irritated that discomfort can affect our mood, as well as our physical health.  By taking care of our bodies, we are also taking care of our minds!
Plus, when we get used to the practice of routinely taking care of our health and wellbeing, we are also reminding ourselves to take care of all parts of our body, including our mind.
Next Steps
Our goal is for you to have the best summer ever- body, mind, and spirit!  Self-care is a major part of getting there.  However, we also know that sometimes getting into the routine of consistent self-care habits can be hard.  Here at online-therapy, we have a dedicates team of experts who would love to assist you with all your emotional health needs.  We offer a wide range of services, with the goal in mind on giving you the happiness toolkit experience!